Subaru Differential Controller (SDC)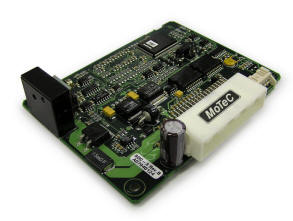 Click here to view a larger image
Subaru's Impreza WRX STi 2003 and 2004 models are fitted with a Driver Controlled Centre Differential (DCCD) controller. MoTeC SDC replaces the DCCD and fits inside the OEM DCCD case, taking the place of the factory circuit board.
The SDC is used to adjust torque split between front and rear differentials by controlling the current to the centre differential solenoid. The centre diff is essentially a limited slip differential with adjustable preload, where the preload is propotional to current. This current can provide 0% to 100% lock of the centre diff. When at 0% lock, the centre diff operates as an "open" diff with a mechanical torque distribution of 65% rear, 35% front (60:40 in some vehicles). As lock is increased, the preload increased, requiring more torque difference between front and rear before the centre differential will slip.
The SDC can be used to adjust several aspects of vehicle handling. For example, increasing lock during braking can improve braking stability on loose surfaces. Reducing lock can improve turn in, while increasing lock can promote understeer on both corner entry and exit. Naturally, the SDC can also influence traction.
Please click here for a PDF file of the MoTeC SDC however you would need to install the Adobe Acrobat Reader first

Send mail to webmaster@hiperracing.com with questions or comments about this web site.
Copyright © 2002 Hiper Racing Sdn Bhd
Last modified: Wednesday, June 28, 2006 11:43:32 PM