Mini Dash Display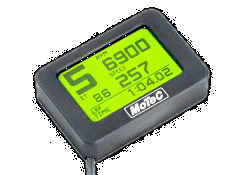 The MoTeC Mini Digital Display (MDD) is a satellite display for the M4, M48, M8 and M800 series ECUs, Advanced Dash logger (ADL) and Enclosed Logger.

The compact design based around a high definition backlit LCD display provides another hardware option for the driver and team alike.

From single-seater applications through to motorbikes, this new product expands the capabilities of the current range of MoTeC products.

The MDD has two main operating modes with multiple screen layouts displaying data received from either the ADL, or from a MoTeC ECU and an optional BR2 beacon receiver.
Please click here for a PDF file of the MoTeC MDD however you would need to install the Adobe Acrobat Reader first

Send mail to webmaster@hiperracing.com with questions or comments about this web site.
Copyright © 2002 Hiper Racing Sdn Bhd
Last modified: Wednesday, June 28, 2006 11:45:11 PM