M400/600/800 ECU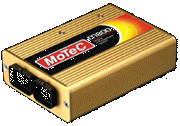 The MoTeC M400/600/800 offers the next generation in Engine Management Systems (ECU). This system has been developed through rigorous research and practical field testing. The M400/600/800 retains all of the best features of the previous ECUs, while offering a combination of unsurpassed power and flexibility.
Smaller
Compact and lightweight, only 500 grams
Faster
Upgraded microprocessor and memory accelerates overall speed
A new generation time co-processor enhances control of Fuel and Ignition
Leading edge processor means data can be logged at up to 200 samples per second.
Better
A digital triggering system (DTS) that is customisable and programmable to suit any engine and includes sophisticated diagnostics that monitor the quality of trigger signals
Programmable filter characteristics allows the noise filter to be adjusted to suit the sensor which gives improved noise rejection. This ensures the integrity of the trigger signals even in the most noisy environments
Inputs
Ref and Sync Trigger with DTS (Magnetic and Hall Sensors)
6 Temperature Inputs
8 Analog Voltage Inputs
2 Wide Band Lambda Sensor Inputs (NTK UEGO/Bosch LSU) (M800 Only)
4 Digital Inputs
Outputs
8 injector drivers (M800); 6 injector drivers (M600); 4 injector drivers (M400)
6 ignition drivers (M800 & M600); 4 ignition drivers (M400)
8 auxiliary outputs to drive boost control, tacho, shift light, etc
Note: Any unused injector or ignition drivers may be used as additional auxiliary outputs (M800 Only)
M400/600/800 Upgrades
The ECU has various options which are field upgradable using a password enabling system. Upgrade options include:-
Logging Gives you access to continuous recording of the operating parameters of the engine including diagnostic features.
Pro Logging Enables advanced data analysis with multiple Graph Overlays, XY Plots, Maths Functions, Virtual Instrument Display and Track Mapping.
Wideband Lambda Allows the use of NTK UEGO or Bosch LSU wideband lambda sensors to be hooked directly to the ECUs without the need of additional components.
Advanced Functions This provides traction control, boost enhancement (anti-lag), gear change ignition cut, pit lane speed limit and greater configurability.
Telemetry Enables transmission of data from the M800, whilst in operation, to another point (e.g. the pits) in real time.
Note: These ECUs can easily be installed into most vehicles using a Plug N Play adaptor harness without any modifications to the existing wiring loom. Click here to see an example of the harness.
Please click here for a PDF file of the MoTeC M800 ECU however you would need to install the Adobe Acrobat Reader first
Please click here for a PDF file of the MoTeC M600 ECU (this file only shows the specifications, the rest would be similar to the M800)
Please click here for a PDF file of the MoTeC M400 ECU (this file only shows the specifications, the rest would be similar to the M800)

Send mail to webmaster@hiperracing.com with questions or comments about this web site.
Copyright © 2002 Hiper Racing Sdn Bhd
Last modified: Wednesday, June 28, 2006 11:44:40 PM