E816 & E888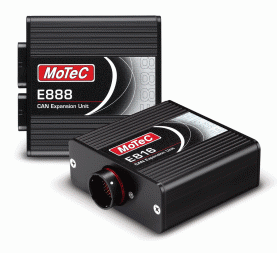 The E816 and E888 Expander modules are designed to increase the input/output capacity of MoTeC products. The following specification describes the functionality of the E816 and E888 Expander modules.
Specifications
E816:
E888:
8 Analog Voltage Inputs

8 Type K (-200 to 1250 deg C) calibrated and compensated Thermocouple Inputs

2 Cold junction compensation Thermistor Inputs

6 Digital Inputs

8 Pulse Width Modulated (PWM) Outputs
Communications
The CAN bus is used for PC communications during calibration, firmware upgrades, and for communicating to the ADL or M800 ECU.
Send mail to webmaster@hiperracing.com with questions or comments about this web site.
Copyright © 2002 Hiper Racing Sdn Bhd
Last modified: Wednesday, June 28, 2006 11:42:25 PM